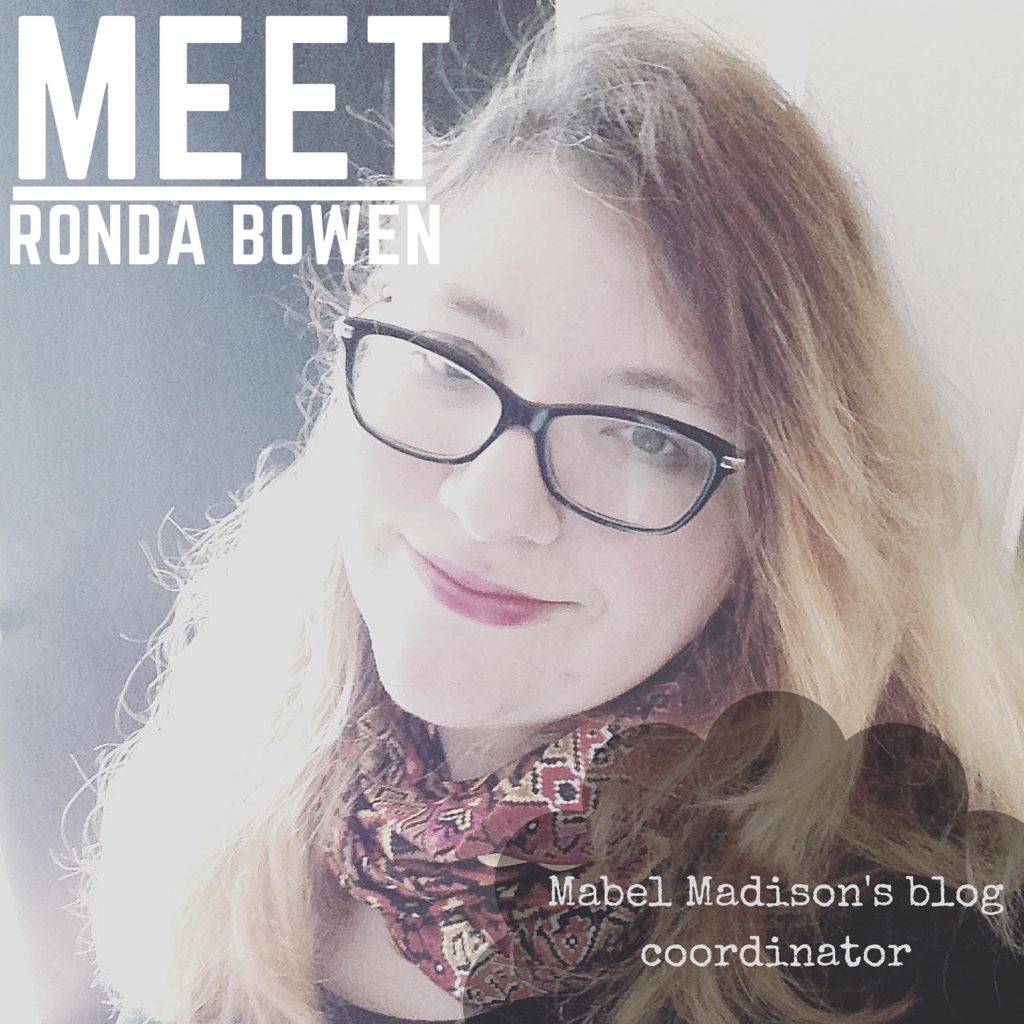 Hi there! I'm Ronda. I have a fabric and pattern "collecting" problem.
Here's where y'all say, "Hi, Ronda." You might nod and smile, and crack a giggle and whisper, "So that's what they're calling 'hoarding' these days." You wouldn't be so far off.
In all seriousness, I'm Mabel Madison's blog coordinator and general all-around social media guru. It's nice to hear the title, I'm sure, but that tells you very little about who I am and what I like to sew. Each week, you'll get to learn more about those of us who help Emily out with Mabel Madison. We'll have fun games, discounts on our favorite fabrics, and a lot more. If you're not part of the Mabel Madison group on Facebook, join up! You don't want to miss out in the coming weeks.
So...who am I?
Oh, as a philosopher by training, I could go places with this. I'll refrain from putting you to sleep though. Needless to say, once upon a time in a land almost 10 years ago, I was getting ready to get a Ph.D. in philosophy at Michigan State University after having received an MA degree in philosophy from Northern Illinois University. I was a single momma at that time, and while I had a sewing machine, I didn't generally have a whole lot of time to sew. Oh sure, I'd whip out the old Janome I learned on to make some curtains for my windows to make my shoebox apartment in grad student housing more friendly and welcoming, but for the most part, I stuck to the books - and there were lots of books.
My life has changed dramatically since then. For one, I'm no longer a single momma. My then almost-eight-year-old boy is now almost 18 (yikes!) and is getting ready for his senior year of high school. In addition to the world's most patient and loving husband who spoils me with fabric, I have two more kiddos to boot - a 2 1/2-year-old girl, who is a total cannonball of energy, and a 7-month-old boy, who I affectionately call my "Velcro baby." I'm also no longer an academic. I left graduate school in 2008 and decided to start my own journey as an entrepreneur. I started a writing and editing business, and while I do publish in my discipline from time to time as an academic scholar, I no longer do that as my career. I'm a former (and future) homeschooling momma. And, I'm back into sewing and crafting. Oh, and I run a couple of blogs - including Wining Wife®. You could say I always have something going on.
How I got into sewing...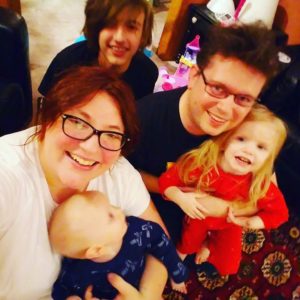 I honestly can't remember not knowing how to sew by hand. I learned how to do that at a very young age starting with the lace-up cards. I then took home-ec in junior high school. (Yes, I'm old, but not that old, as I have two kids under 3, remember?) Sometime during that time, I realized that my mom had this awesome power called using the sewing machine. I also wanted to be one of two members of the first female white rap group - we called ourselves "2Hype." So, I needed stage clothes...lots of stage clothes.
I must have missed the memo that I was entirely too shy to actually be on stage.
Following that little...inspired point... in my life that included badgering my mom to procure far too many patterns and a small mountain of fabric, I attempted to make my first apron in that junior high home ec class. I decided it wasn't for me. A few years later, I graduated high school early and started out at junior college taking some fashion design classes (yes, my early academic career sounds a lot like Pauly Shore's character in Son in Law. I majored in this for two semesters, I majored in that for two semesters. How I wound up doing philosophy is a mystery to me. Okay, it's not, but that's a story for another time.) I had fun with them, then left them behind. A few years later, I became pregnant with my son, and I decided that as a mom I needed to sew all the things. I got my first sewing machine and attempted to make him a few things. I had no clue what I was doing, the machine ate my fabric, I put it away. I pulled it out again after he was born and made some more things for myself, and continued to amass...a giant hoard of fabric.
That giant hoard of fabric continued to grow as did my collection of patterns. Finally, there I was, pregnant with my daughter, and I wanted to make all the things. My husband bought me a sewing machine that also embroiders after watching me yell at the old Janome. I made her some crib sheets and blankets. Then, I didn't sew much again for a while. She was born, I got all post-partum depressiony, I spent far too many hours with my computer, and I saw a call for pattern testers. The rest is history. I make something just about every week now. Sometimes, I make all the things. My fabric stash keeps getting bigger, my spare time keeps getting smaller, but I simply love to create things.
What I like to sew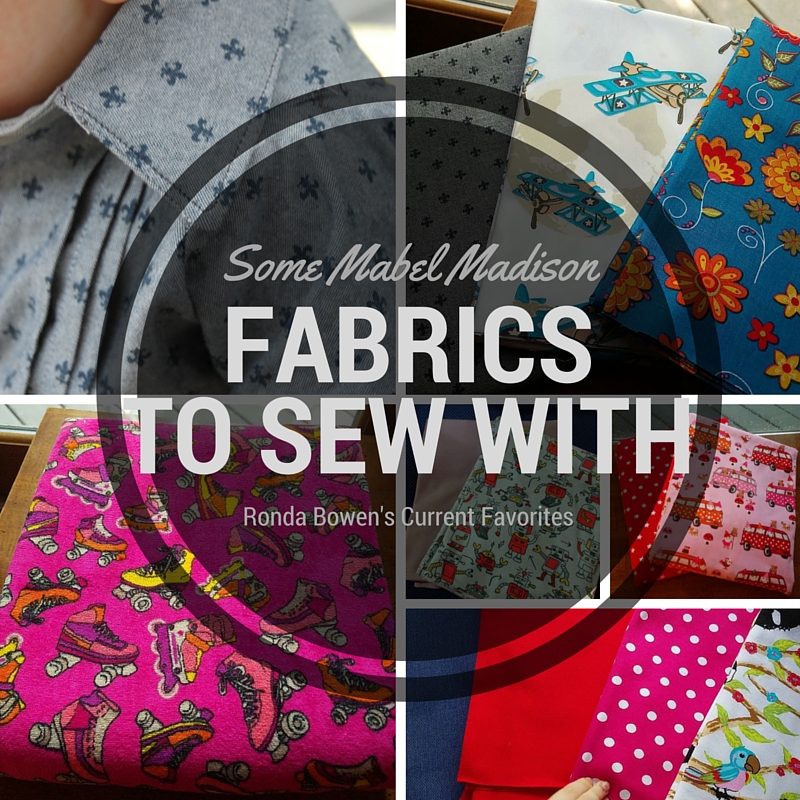 I like to sew all the things. I sew a lot of stuff for my plus-sized self. Hey, I run in my dreams, when I get a chance to sleep, which is never. I love to sew for my little ones, particularly since they can't offer critiques of "Hey mom, what's up with this funky placket on this henley you made?" (No, I never rage-sew, why do you ask?). I sew for the teenager, who loves to make faces at me when I offer to sew for him, but then wears what I make him all the time. I'm about to make some jeans for my husband. I also sew for our home.
I don't sew for the cats. There are three of them, and I'm not sure they would appreciate my efforts.
I like classic patterns, vintage patterns, and clean lines. I like to mix vintage fabric with a contemporary pattern and vice-versa. It's fun to play and be creative. You'll see that I have a lot of fun making all the things when I share my creations with you in the group. (You are a member, right?)
My featured Mabel Madison fabrics
For my week, you'll see some things made with the following fabrics:
You'll see me using other fabrics from Mabel Madison as well, so be sure to pop in regularly. I can't wait to see you there! (I seriously love these fabrics. I cannot wait to share all the cute things I've made. One of the best thing about the poplins is that it's cotton woven on a knit width of fabric. So you're getting a lot of fabric to work with when you order the Euro poplins.)
What fabric are you most looking foward to seeing me sew up? Share your thoughts in the comments.