One of the blogs I run is WiningWife®, where I often talk about food and wine pairing suggestions. Because I sew for my whole family (and I'm planning to sew to sell soon), I'd love to take a minute to suggest some of my favorite fun pattern and fabric pairings that I think would work really well together. If you have some ideas on fabric and pattern combinations you'd love to see together, please comment here or hop into our Facebook group to share your thoughts with us!
A Fun Baby Fabric and Pattern Match Up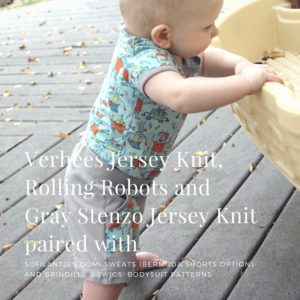 I love sewing for babies. One yard of fabric goes a LONG way! I don't know if you've had the opportunity to touch Stenzo jersey knits or Veerhees jersey knits, but they are so super soft, making them great fabric options for baby clothing. In addition to Verhees Rolling Robots (pictured to the right), here are a few of my favorite pairings for making baby clothes:
Pair a Veerhees Nicky Velour with Brindille and Twigs' Grandpa Cardi and Streamline Pant
Sure, the obvious choice for Veerhees Nicky Velour would be a soft sleeper, but what about making baby something cuddly for when he or she is playing or out and about? Fall is approaching, and this would be a lot of fun for the season. If you're not feeling doing an entire top and bottom set in the soft fabric, consider doing the Grandpa Cardi in the velour with solid knit accents and the Streamline Pant in a second coordinating knit solid.
A Pairing for the Little Girl in Your Life
I love sewing for my little gal. She's at an age where every single time I make her something she squeals with delight - particularly if I make her something super girly like a skirt or a dress - or if I use pink. She proudly exclaims, "I love it!" Of course, she also proudly exclaims, "I love diaper change!"
Pair a Veerhees or Stenzo Poplin with Made for Mermaids' Samantha Skirt and one of our Stenzo Jerseys with the Made for Mermaids Charlotte Top
I'm actually planning to use the blue Veerhees Fairy Flowers for the Samantha Skirt and collar of the Charlotte Top for an outfit I'm making my little gal this week (check in the group for it). I think that the floral poplin available in our shop, in particular, makes for a really cute skirt, but how fun would it be to make the Samantha Skirt and suspenders with Veerhees Candid Camera Euro Poplin and a matching top with the Stenzo black on blue mini dots jersey knit?
Pairing a Fabric and Pattern for a Teenage Boy
My teenager is really hard to sew for. He's very picky, and he probably scrutinizes what I'm making more than your average boutique customer. I'm always on the lookout for how to fit fabrics and patterns together for him. Recently, he suggested he might be in need of some new pajamas. I think part of his reluctance in having me make things for him lies in the whole "I don't want my photo taken" attitude he's had lately.
Whimsical Stenzo Knits paired with Patterns for Pirates' Men's Henley and Peek-a-boo patterns adult pajama pants
Yup, I think that pajamas are where the fun is at! My teenager is obsessed (well, not really, but it's been a running joke for a few years) with foxes. I think it would be a lot of fun to make him some PJs using Stenzo's Argyle Foxes. I'll use the foxes for the pajama pants and then some solid jersey knits in coordinating colors to make the men's henley. Take a look through our catalog of knits. The Birch Organics Cars knits would also make for some great pajamas for a teenager.
Putting Together Pattern and Fabric to Make Something for a Husband
When I first met my husband, a couple of things crossed my mind. The first was that he was wearing a Hawaiian shirt. He loves the style, and now that I know him, I know that he likes to find unique shirts. That's why I thought that this next pairing suggestion would be perfect for him.
Chambray or Poplin and Thread Theory's Fairfield Button Up Shirt
I've already caught my husband eyeing the Fleur de Lis Chambray - particularly after I sewed something up for our little guy out of it. Thread Theory is known for their great men's patterns, and so when I saw that I could use their free pattern add-on to make the Fairfield Button Up Shirt as a short-sleeved shirt, it made total sense that I should choose that pattern.
A Quick-Sew Pattern and Fabric Pairing for Myself
I like things that sew up quick when it comes to making things for myself. I actually found that I could use 1 & 1/2 yards of the Stenzo jersey knit to make a skirt for myself and my little gal - and have some left over. You'll get to see those skirts later in the week. My pairing suggestion here is based upon the fact that I've made 3 of these skirts so far, and I already have at least two more planned.
Patterns for Pirates Pirate Pencil Skirt and Stenzo Jersey Knits
I've made this pattern so many times, in fact, that I can sew it up much faster than the time it takes me to cut out the fabric. At least, that's how it feels. Cutting fabric can be tedious! The Stenzo knits are soft and yet thick enough to be good fabrics for making the P4P Pencil Skirt.
What patterns and fabrics do you want to see paired together?
I've shared some of my favorite pairings. Of course, there are a lot of patterns out there, and Mabel Madison carries a variety of fabrics. Share your picks with us! I can't wait to hear your ideas.